The world's smallest 4-gas monitor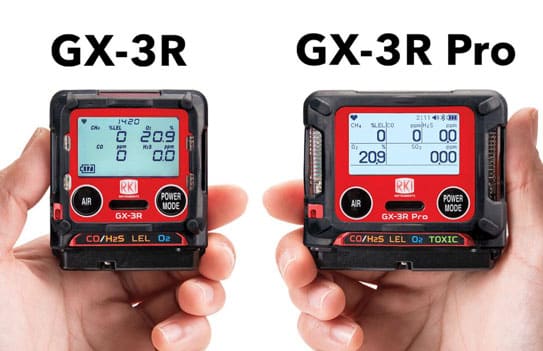 Weighing only 99.79 grams, it clips comfortably within a worker's breathing zone. Both the GX-3R and the GX-3R Pro utilize a new generation of micro sensors:
The new LEL sensor has two active filaments to increase its resistance to silicone poisoning
The new O2 sensor has a 3 to 5 year life span
H2S and CO are now monitored by one combination micro-sensor
Available with a hydrogen compensated CO sensor (as LEL/O2/CO)
Non-compliance indicator
The sensors are field replaceable: Easy to change in less than 60 seconds
Weighing only 129.84 grams, it fits in the palm of your hand! In addition to the four confined space gases (CO, H2S, LEL, O2) the GX-3R Pro has a 5th channel for toxic and infrared sensors that can monitor:
ppm of CO2
% volume of CO2
SO2
CO sensor (with hydrogen compensation)
HCN, NO2, NH3, or CL2
Additionally, the GX-3R Pro comes equipped with:
Two interchangeable sensor slots providing flexible configurations
Non-compliance indicator
Man-down alarm
Panic alarm

Stay Connected!
The GX-3R Pro has Bluetooth Connectivity
Connect to the RK Link app to view direct instrument readings
Adjust alarms and instrument settings
Configure it to send alarm notifications and location to your desired contacts in case of emergency
Available on iOS and Android
OSHA defines the breathing zone as a ten inch radius around the worker's nose and mouth, and requires that worker exposure monitoring air samples be collected in the breathing zone. Air sampling filters may be attached to the collar or lapel.  Traditionally this means only a single gas monitor would be small enough for a worker to practically wear a gas monitor 'In the breathing zone'. Now there is a 4 gas monitor smaller than many single gas monitors.
The GX-3R is the worlds smallest 4 gas monitor weighing only 99.79 grams and can comfortably be clipped within a worker's breathing zone. It simultaneously monitors and displays LEL combustibles, O2, CO (Hydrogen compensated CO also available), and H2S.
The GX-3R represents the latest evolution of gas detection technology utilizing a new generation of micro sensors. The LEL sensor has a unique design with two active filaments in one sensor to increase it's resistance to silicone poisoning. If one filament gets poisoned the second filament takes over. The new O2 sensor is electro chemical with a 3 to 5 year life span.  H2S and CO are now available in a combo micro sensor.  
Safety supervisors will appreciate the non-compliance indicator. The instrument flashes it's 3 LED lights every 30 seconds in the following conditions; if the instrument has not been bump tested, or if calibration is due, or if there was a gas alarm event. The 3 LED lights will continue to flash once every 30 seconds until the non-compliance condition has been resolved. The 30 second interval is adjustable.
Gas Detected
(CO)
H2 Compensated
Carbon Monoxide(CO)
Hydrogen Sulfide(H2S)
H2S
Only
Combustible Gases
(Methane as standard)

Oxygen

Dual Sensor
Sensor Slot
1
2

3

Detection
Principle
EC
Dual EC
EC
Catalytic combustion

EC

Detection Range
(Increments)
0 ~ 2,000 ppm
(1 ppm)
0 ~ 200.0 ppm
(0.1 ppm)
0 ~ 100% LEL
(1% LEL)

0 ~ 40% Vol. (0.1%)

Accuracy
Statement
± 5% of reading
or ± 2 ppm CO
± 5% of reading
or ± 5 ppm CO
(whichever is greater)
± 5% of reading
or ± 2 ppm H2S
(whichever is greater)
± 5% of reading
or ± 2% LEL
(whichever is greater)

± 5% of reading O2

Sampling Method
Diffusion sampling standard (hand aspirator or clip-on motorized pump optional)
Display
Digital LCD displays with 7 segment plus 14 segment plus icon
Preset Alarms
(User Adjustable)
Over scale alarm
(Non-adjustable)
1st alarm: 25.0 ppm
2nd alarm: 50.0 ppm
3rd alarm: 1200.0 ppm
TWA alarm: 25.0 ppm
STEL alarm: 200.0 ppm
Over alarm: 2000.0 ppm
1st alarm: 5.0 ppm
2nd alarm: 30.0 ppm
3rd alarm: 100.0 ppm
TWA alarm: 1.0 ppm
STEL alarm: 5.0 ppm
Over alarm: 200.0 ppm
1st alarm: 10% LEL
2nd alarm: 25% LEL
3rd alarm: 50% LEL
Over alarm: 100% LEL
Types of Alarms
Gas Alarm: 3 Increasing alarms, STEL, TWA, overscale alarm. O2 decreasing/increasing.
Trouble alarm: Sensor disconnection, low battery, circuit error, calibration range error
Display of Alarm
Gas Alarm: Flashing LEDs, continuous buzzer (100 db @ 30 cm), flashing gas value, vibration
Trouble alarm: Flashing LEDs, intermittent buzzer (95 db @ 30 cm), display of error message
Operating Temp.
& Humidity
-20°C ~ +50°C [ -4°F ~ +122°F ], 10 to 90% RH, non-condensing (continuous environment)
-40°C ~ +60°C [ -40°F ~ +140°F ], 0 to 95% RH, non-condensing (temporary environment, 15 minutes)
Response Time
Within 30 seconds (T90)
Power Source
Lithium-ion battery, Approx. 25 hours after a 3 hour full charge
Approvals
ATEX, CSA
Dimension
& Weight
2.2" W x 2.55" H x 1.02" D (Approx. 58 W x 65 H x 26 D mm), 3.52 ounces (approx. 100 g) without rubber booth
2.4" W x 2.63" H x 1.06" D (Approx. 61 W x 67 H x 27 D mm), 3.70 ounces (approx. 105 g) with rubber booth
Case Material
Explosion proof, dust and water resistant to IP-66/68 (2m,1h) approval. Drop height 23 ft
Controls
Two buttons: POWER / MODE, AIR
Data logging
Logs user ID, station ID, Calibration & Bump Test history, Alarm Events & Alarm Interval Trends
Standard
Accessories
Alligator clip, protective rubber boot, charger, and calibration adapter
Optional
Accessories
SDM-3R calibration station
RP-3R Clip-on sampling pump with 4" rubber nipple, 10' hose and probe (up to 40' hose available)
Padded carrying case for GX-3R and accessories
USB to IrDA downloading cable for data logger
The world's smallest 4-gas monitor
Category
Portable Gas Detector
Type
Multi gas
Detection gas
HC or CH4 / O2 / CO / H2S
Principle of detection
Catalytic Combustion Potentiostatic Electrolysis
Detection range
0-100%LEL (HC/CH4)
0-40vol% (O2)
0-2000ppm (CO)
0-200ppm (H2S)
Sampling method
Diffusion
Display of alarm
Flashing light / buzzer / vibration
Explosion protected construction
Intrinsically safe
Explosion-proof class
IECEx : Ex da ia IIC T4 Ga / Ex da ia I Ma (With combustible gas sensor)
Ex ia IIC T4 Ga / Ex ia I Ma (No combustible gas sensor)
ATEX : II1G Ex da ia IIC T4 Ga / IM1 Ex da ia I Ma (With combustible gas sensor)
II1G Ex ia IIC T4 Ga / IM1 Ex ia I Ma (No combustible gas sensor)
IP rating
IP66/68
Approvals
IECEx / ATEX / INMETRO / Japan EX / CE
Power source
Lithium ion rechargeable battery unit
Battery life
Approx. 40 hours after full charge (with long battery mode)
Dimensions
Approx. 58 (W) x 65 (H) x 26 (D) mm
Weight
Approx. 100g
Operating temperature range
-40℃ to +60℃ (no sudden changes)
Operating humidity range
0 to 95%RH (no condensation)